Singapore Swimsafer Bronze Award swimming participants for kids objective is to further development on strokes and introduction to lifesaving technique (lifeguard rescue training)  and be able to swim far.
Compact jump
Able to do backward and forward somesault in the water
Scull floats and tread water for 2 mins
In 1.4 meter deep perform a feet first surface dive and swim through a loop of 2 meter apart.
Swim 115 meter include 25 meter free-style, 25 meter breast-stroke, 25 meter back-stroke, 25 meter survival back-stroke and 15 meter side-stroke.
Scull floats and tread water for 2 mins
Dress in swimwear short and t-shirt swim 3 mins slowly using backstroke, side stroke and breast-stroke changing stroke every mins. Wave and call for help intermittently. Swim to a flotation aid and try kick to the pool's edge. Climb out of water without assistant.
Throw a flotation aid to a partner 2 meter away and instruct the partner to kick to the edge.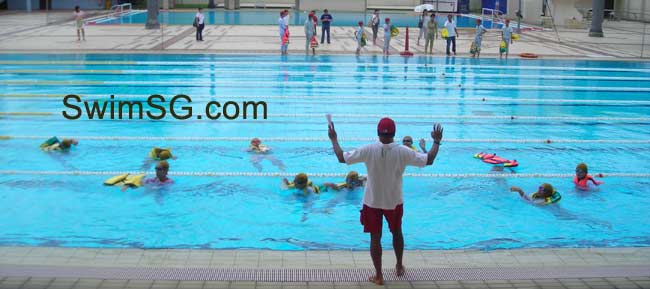 Swimming test, wearing lifejacket in the water.