Bad weather & Safety Awareness
The swimming instructors or the pool management with us reserve the right to cancel or postpone the swimming lesson due to bad weather condition or lighting alert. Land drill exercise, activities or water safety theory may be conducted if the pool closed.
Before and after lessons
Parents and guardians are responsible for the well-being of their children and wards in the changing room and other areas of the Swimming Pool before and after lessons.
Unforeseen Circumstances
If there is any unforeseen circumstances or instructor is unavailable, we reserve the rights to assign a relief qualified swimming instructor to teach.
Fee Guideline
The fee is fixed for group classes, per month or per term basis and should be paid at the start on the first lesson of the month.
The fee charges is subjected for review from time to time.
Completion
All lessons must complete in a reasonable period of time. For individual lessons, 4 lessons to complete in 6 weeks time. If it is by per term basis, 5 lessons to complete in 8 weeks time, 7 lessons to complete in 11 weeks time,  or 10 lessons to complete in 15 weeks time.
Entrance
The students and Parents will pay for their own entrance fee using EZ link card or by cash into the card dispenser machine to access. Singaporean and PR can use ActiveSG to access the Public Swimming Complex.
Termination
Students should give at least 2 weeks notice in advance if intend to end.
Days / Timings / Venue
We reserve the right to change timing, days and venue of the lessons.
Responsibilities
Each swimming instructor will take diligent care in ensuring your children safety but that does not apply if the children wilfully disobey the instructor instruction and act on his own wish during practice. SwimSG and our instructors, officers or agents will not held liable for all claims that can arise in any injury, damage or loss of life while attending this course and it includes all cost with expenses that may be incurred as a result of such claims.
Swimming Attires
Students should equip with the necessary swimming suit, swimming trunk for boy and goggle. Alternatively, students can purchase the goggle from our swimming instructors.
Refund
Fee paid is not refundable.
Conversion (For setting in smaller group or individual classes)
If conversion from smaller group or individual lesson to bigger group during the course, fee will be pro-rate accordingly once find suitable.
Public Holiday And Make Up
For all standard group swimming packages there is no make up classes at all circumstances even for public holiday, raining days. There is no make up lesson as well if students fall sick.  It will be considered as one lesson taken. Note : Public holiday may consider as one lesson taken although no classes will be conducted on that day for group lesson. If instructor on holiday cannot make it, there will be make up classes.
For individual or semi individual lessons,  4 lessons complete in 6 weeks time or 8 lessons complete 12 weeks time. In this calculation for 4 lessons setting, maximum allowance of make up classes for individual or semi individual lessons by client requests will be 2 times (Equivalent applied).
Coaches have the right to reschedules classes if he/she has an emergency to attend, on holiday or sick etc. If coaches request to reschedule classes, there will be make up lesson.
Data, Video and Photo
By providing personal data during registration, you authorise SwimSG and/or Offeror and their agents/service providers, on your behalf and on behalf of each relevant person, to collect, use, process and disclose personal data provided, for the purposes of implementing and administering the scheme.
By attending SwimSG classes, you consent to the use of your photograph, voice, likeness or image being captured on photographs or video or audio recordings. Such photographs and recordings may be published or used in SwimSG's internal and external publications, websites and other communication channels.
Additional
Each individual coaches has the right to establish additional terms and conditions with the clients.
Swimming Instructor reserves the right to alter terms and conditions without prior notice.
Cancellation
No cancellation of arranged classes in the nick of time.
Monitoration / Accompany by Parents
Kids that are playful, very small size or very fear of water may require to monitor closely for safety, fee will be higher and one parent or helper may be needed to accompany in the water. Usually parent or helper just stay at the side of the pool. In case the child wants to visit the toilet, parent can bring them there safely and back.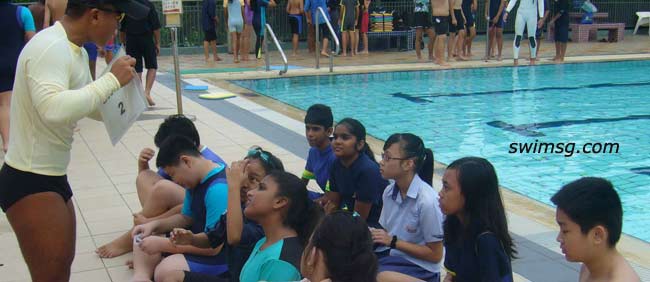 Question 1 : Why is smaller group size swimming classes better for my Children ?
We recommend parents to take up smaller group  swimming classes for beginner as more attention can be given especially if kids have fear in water.  If the child progressed to intermediate and advance level, bigger group are more suitable as they need moltivation from peers.
Question 2 : Why do I need to do ATM or Internet-Transfer of partial fee first ?
We have a few scenarios where parents were asking for swimming lessons in the nearby swimming complex. After we have gathered a group to start the lessons as soon as we can, some turned out to be non-genuine enquiries. Due to insufficient numbers of participants, the classes were not formed. We need to apologize to our instructors for allocated their time. ATM or Internet-Transfer of fee required. Please use unique name. Keep us informed when done. POSB : 421-60959-4
Question 3 : Why there is no freebies at start ?
The core services are coaching swimming. Get the best support and services from our qualified instructor, instead of getting the freebies and compromise with the service standard.

Question 4 : How long does it take for my child to acquire swimming technique ?
Your child will learn at his own pace, you will see the improvement during the classes.
Question 5 : Why is adult fee more expensive than children ?
Normally adults will learn faster than children because they can understand better on the  instruction given by the coach. After completion of the 10 lessons, 99% adults are able to swim.
Question 6 : If my children fall sick, is there a replacement class or reimbursement ?
For our group classes, fee is fixed as per month basis, it is up to the instructor discretion for replacement. Normally by rules there is no replacement or make up for classes if missed. There is no replacement or make up classes even raining and pool closed, but some coaches have multiple timings in one pool so maybe flexible. For individual, semi-individual, small group (3 in 1), possible more flexibility can be given.
Question 7 : Is there a swimming lessons on the fifth week ?
Group classes is by 4 lessons as per month basis. If there is a fifth week within the month, usually there is no lesson. Some instructors may use the fifth week as a make-up class if one of his classes is cancelled by him within the month.

Baby Toddlers kids Swimming lessons Singapore

Swimming lessons Adults senior citizens using Special Floats

Swimming lessons for girls stroke correction