Welcome to SwimSG.com, Singapore Safe Swimming Lessons for baby, toddler, kids & adults.
Our Services :
1. Provide a platform to look for swimming lessons by good swimming coaches in Singapore
2. Involve in bidding for School Swimming Projects
3. Link lifeguard to company for private function in Singapore
4. Software Engineer for web based system and apps
SwimSG.com was started by Steven Goh, Swimming Coach and Lifesaving instructor In Singapore. He obtained his Bronze Medallion Award (Qualified Lifeguard) in 1999, Qualified Swimming Instructor In 2000 and Qualified Lifesaving Instructor in 2002.
During his free time, one of his interest is gardening and he grows Herbs and Spices. Other times he is engaging in software development for better management of swimming classes and manufacturing of creative floats that can help learn swimming in a faster and more efficient way.
When he was young, he attended swimming and piano classes. In his tertiary school, he studied software and hardware engineer. His floats is mostly custom made and easier for kids and adults to learn. There is an online system for management of students attendants as well.  Coach Steven Goh currently teaches swimming at Hougang, Sengkang (Anchorvale). He also teaches individual swimming classes at condominium and public pool around Singapore.
He was a technical officer for swimming and he volunteered in checking if there is any disqualification in execution of strokes for Swimming Meets in SG.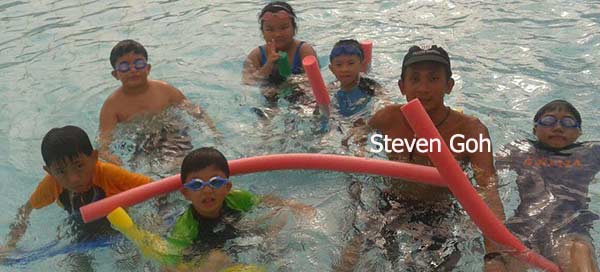 Coach Steven Goh and Students Swimming


Teenage Swimming Lessons Singapore

Toddlers baby kids Swimming Lessons

Stroke Correction for free-style

Swimming lessons for adult Senior Citizen Singapore

Swim Coach Steven Goh demo piano

Swimming Coach In Singapore Sengkang